Slit Lamp Breath Shield for slit lamp with convergent (Greenough) type binocular stereomicroscope. This size is original for CSO, Reichert, Keeler, Essilor, and others, but also fits other brand slit lamps.
Fits all slit lamps with a pin below oculars: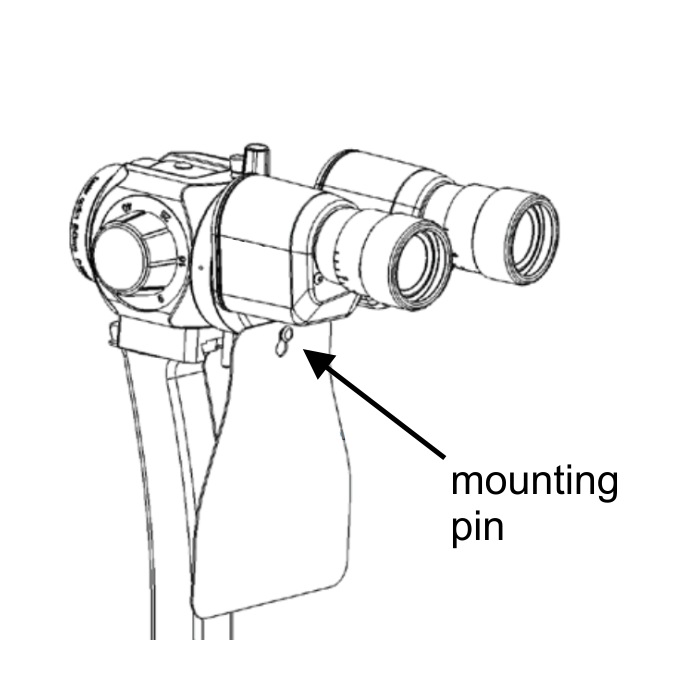 And also fits slit lamps with removable mounting screw located on the microscope arm from the doctor's side (e.g. newest HS BQ900) or from the patient's side (most models). Please check image for dimensions.
Material: Non-fragile PETG

Easy to clean (resistant to alcohol).

Less resistant to scratches compared to acrylic shield,

Thin, but flexible and not fragile.
Slit Lamp Breath Shield is a clear plastic barrier to block breath between patient and doctor.

A must-have accessory that makes your workplace safer and will last for years.
The Slit Lamp Breath Shield is easy to install and remove. Comes with protective covering. The slit lamp breath shields are clear, please remove protective film from both sides.
Cleaning instructions for PETG slit lamp breath shield:
Use mild soap or detergent and plenty of lukewarm water. Use a clean soft cloth, applying only light pressure. Rinse with clear water and dry by blotting with a damp cloth.
For disinfection use 3% hydrogen peroxide. Alcohol is safe to use. Grease or oil may be removed with kerosene.
Do Not Use: window cleaning sprays, kitchen scouring compounds, or solvents. Damage may occur.
All ChinRestPaperSource products are proudly manufactured in-house in Oregon, USA from US materials.
Chinrestpapersource.com guarantee 100% satisfaction, FREE US shipping and returns/replacements.
ChinRestPaperSource welcomes distributor inquiries regarding our products. Please send all distribution inquiries to info@chinrestpapersource.com.
Don't see what you are looking for? Call us 971-295-0113. We can manufacture any size of breath shield. We will find a solution that fits your need.
Breath Shield Attributes
Mounting Type
Non-Removable Pin, Removable Screw
Size
Small
Material
PETG
Compatibility
For:
Slit Lamp
Slit Lamp Breath Shield, Reichert and Keeler Style, Flexible PETG
Brand: AUTUMN
Product Code: AMBC2P
Availability: In Stock
Related Products
Tags: Breath Shield slit, lamp, breath, shield, , reichert, and, keeler, style, , flexible, petg, shields
Featured