Introducing LEAF - a UV-C Air Sterilizer designed and made for Exam Room.
LEAF UV-C air sterilizer is inspired, backed, created by and for Eye Care Community.
Ultraviolet light is well known as a feasible method of disinfection due to its efficiency and efficacy.

Give your patients and staff a peace of mind in returning to medical facilities during and after the coronavirus pandemic by having powerful 24/7/365 air purifying.
LEAF is a wall mount UV-C air sterilizer that constantly recirculates the air in a room. It's efficient, quiet and simple. We designed the LEAF to be used specifically in a small space, like an exam room, where it can efficiently recirculate air 24/7/365. LEAF is a double enclosed UV-C system, that is designed to be used in occupied spaces.
How does it work?

The air moved by the fan inside the unit and moves through the labyrinth where the flow is slowing down to be efficiently purified with UV-C light. The central part of the labyrinth contains precisely tuned UV-C LED panels (emitting high power 264nm wavelength radiation), and 97% effective PTFE reflectors (to multiply exposure up to 10 times). The labyrinth and location of the light sources are accurately 3D designed to insure the UV-C radiation can not escape the labyrinth. Clean air moved out by the second fan and the cycle repeats 24/7/365.
Once turned on, the device will turn on UV-C panels and fans. The blue status indicator will turn on. To ensure the system is working stable and as intended, LEAF equipped with a real UV-C sensor and microcontroller. The device is constantly performing self testing, and does not need service during all life time. There is also no need to replace the UV-C light source. If UV-C light or air flow intensity changes - the blue light on the panel will start blinking.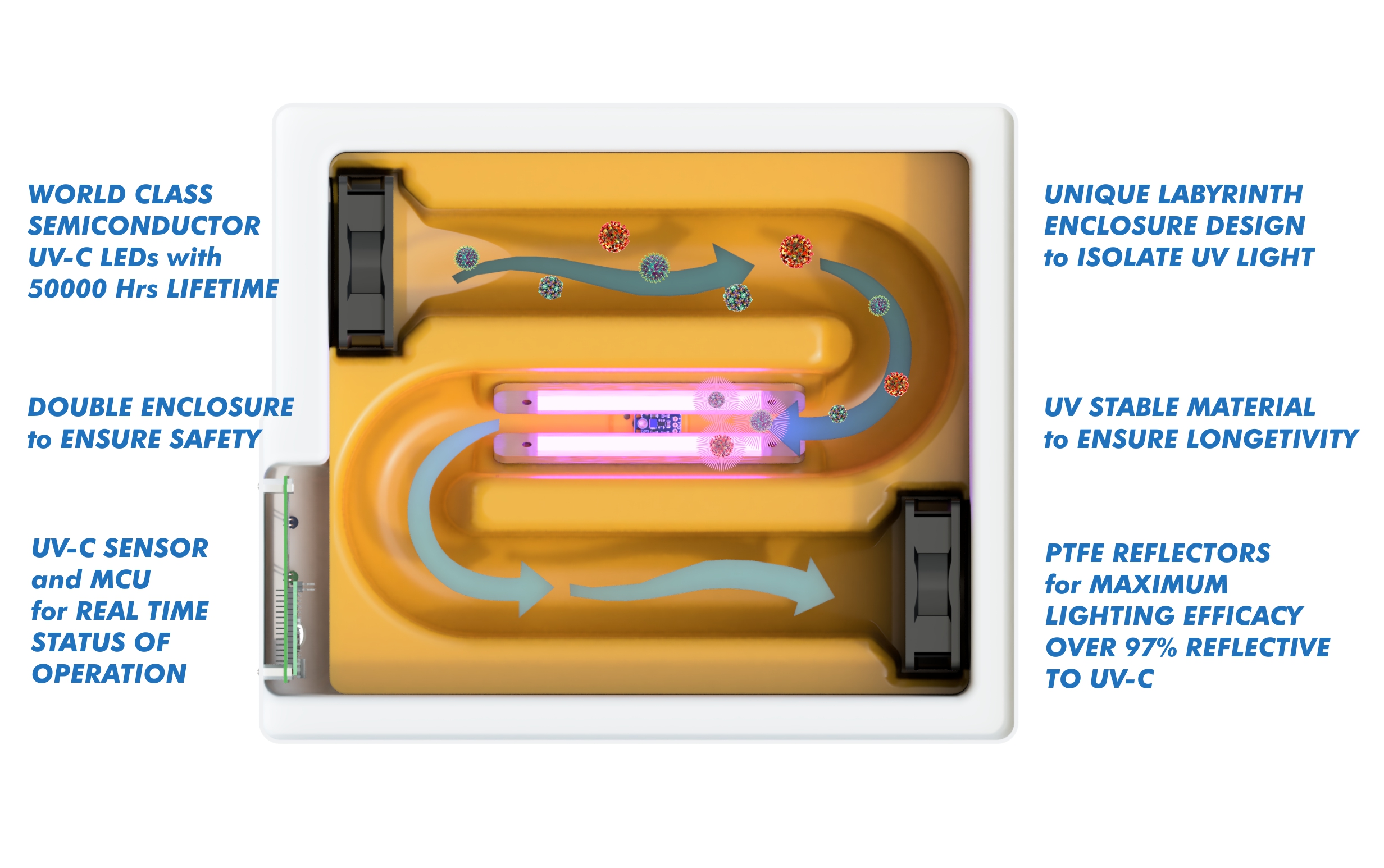 Charged with World Class UV-C LED panels
UV-C LED (light-emitting diode) is a lamp that emits light in a very narrow band of wavelengths. They tuned precisely to 264nm to achieve maximum germicidal efficiency. LEDs are far more energy efficient than low pressure mercury UV tubes which emit light in a much wider band of wavelengths. In addition to that with old technology, over 90% of energy is wasted for generating heat and ozone. Broad spectrum (including UV-A, UV-B, UV-C and visible light) has a peak of 253.7 nm, which works about 20% less efficiently than the 264nm (peak germicidal efficiency). LEDs don't generate heat and ozone, and work stable and efficiently in a wide range of temperatures. Mercury UV-C tubes are very sensitive to ambient temperature, with temperature just a little over 68F mercury tubes UV-C emitting efficiency is not stable.
Tubes lifetime is limited to 8000-9000 hours and they start to degrade after first hours of use, their spectrum can change and deviate. UV-C LED has 50000 hours of lifetime, they are stable and efficient during all 50000 hours.
LEAF charged with World Class LEDs, made under patented technology, they are over 10% more efficient than most other UV-C LEDs.
Unique UV-C Reflectors
To improve UV-C systems and to multiply the effect of UV-C light source efficient reflectors are needed. UV-C is very different from visible light. First of all - it's invisible. Regular materials like glass - does not reflect UV-C, they actually block it. That's why regular mirrors won't work as the reflectors. Polytetrafluoroethylene (PTFE) provides highly efficient and uniform diffuse reflection of UV-C light. PTFE demonstrates outstanding reflectance over 97%.
LEAF has a unique UV-C reflectors intended to multiply the effect of UV-C LED panels up to 10 times.

UV-C Stable material
Many polymers are attacked by ultraviolet radiation, and products using these materials may crack or disintegrate if they are not UV-stable. For the internal enclosure of LEAF we use UV stable material. It's protected from the long-term degradation from UV light. We use non-toxic and non-staining material that meets FDA requirements.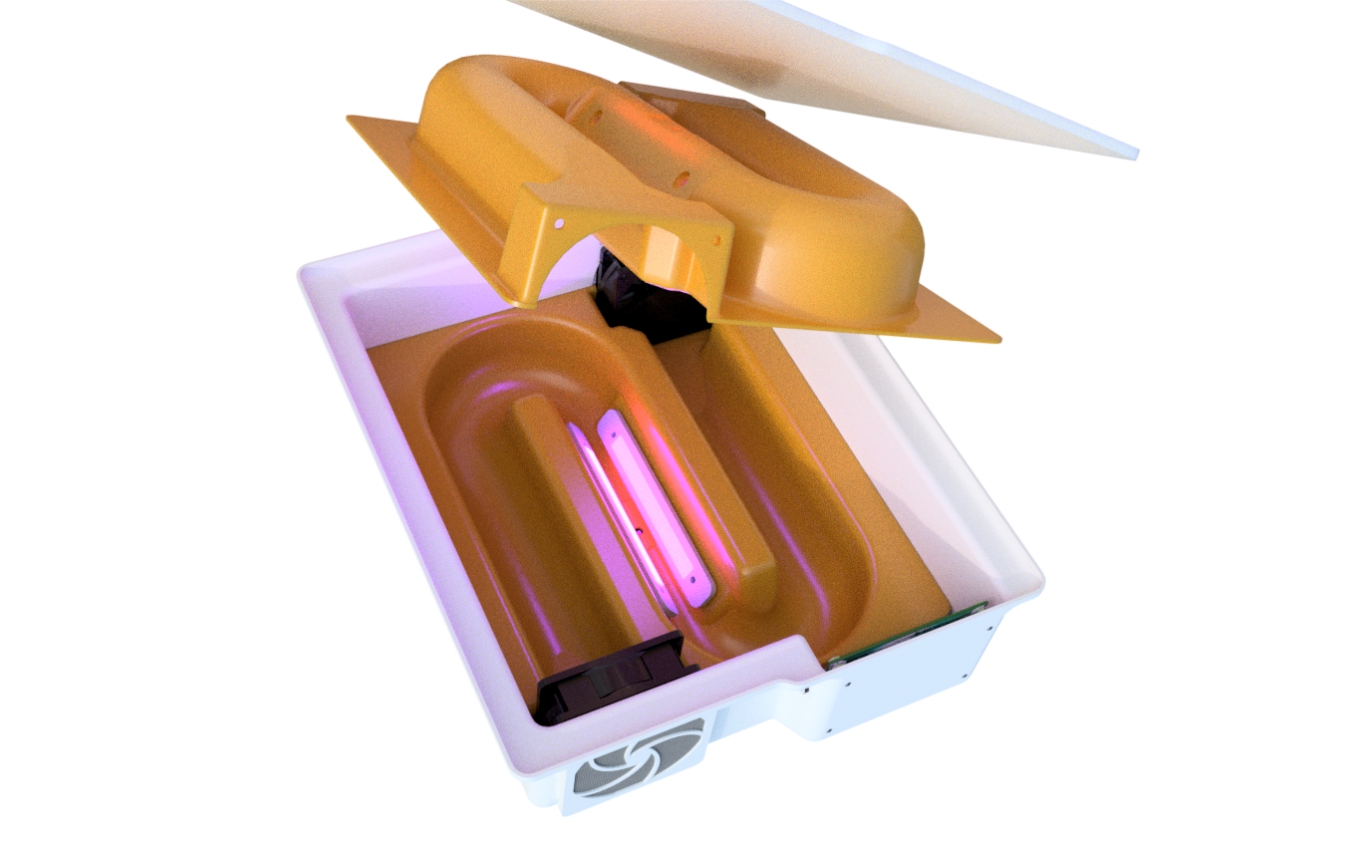 What makes this air purifier different?
LEAF is designed for 1 purpose - UV-C air sterilizing.
During the pandemic the UV-C air purifier market is flooded with counterfeits. Most existing on the market products either not doing anything (like home use HEPA filters with some "99.999 UV" capabilities available from online marketplaces or even from well known big-box retailers), either simply dangerous to be used (due to the UV-C radiation being exposed).
Please don't be fooled with "5 in 1" or "7 in 1" devices. They may be good HEPA filters, but do nothing for killing viruses and bacteria or simply dangerous to use.
Hassle Free Warranty:
Standard 1 year, if the status indicator (blue light) is blinking - free replacement with newer model.
Extended warranty (2-5 years) available upon request.
We created and manufacture LEAF in house. And all AUTUMN (formerly ChinRestPaperSource) products are proudly manufactured in-house in Oregon, USA.
LEAF, UV-C Air Sterilizer for Exam Room
Brand: AUTUMN
Product Code: AMSUL
Availability: In Stock
Tags: LEAF, UV-C Air Sterilizer for Exam Room leaf, , uv-c, air, sterilizer, exam, room, purifier
Featured